Farlington awarded the Artsmark Silver Award
Back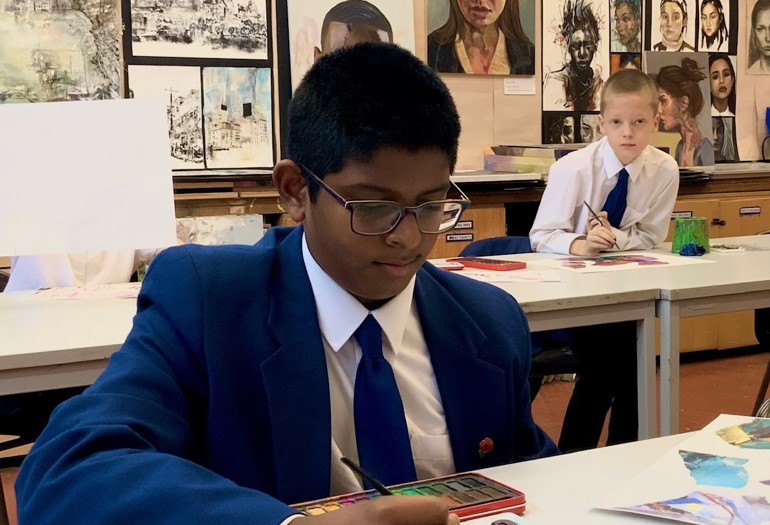 Farlington is delighted to announce that it has received the Artsmark Silver Award, the only creative quality standard for schools and educational institutions accredited by the Arts Council England. This award demonstrates our dedication to individual and collective excellence in the arts, and shows our commitment to cultural education, which we believe is crucial in giving young people the skills they need to succeed in life.
Artsmark has given our young people the opportunity to build confidence, character and resilience. Over the past two and a half years, our pupils and staff have worked to showcase the imaginative ways in which the arts are already integrated into our curriculum, as well as embracing exciting new initiatives across the whole school. For example, we have introduced the Bronze Arts Award as part of the Year 9 Drama curriculum, giving students the opportunity to take part in an array of Performing and Creative Arts activities alongside our regular school productions and concerts. More recently, these productions have been taken out to local primary schools, demonstrating our commitment to sharing cultural education with the local community.
Our holistic approach to school life means that over 100 students participated in LAMDA and Trinity Music examinations over the past year, achieving phenomenal results at all levels. For older students, the national ARTiculation Prize and the EPQ have challenged them to explore, debate and discuss a diverse range of cultural issues at a high academic level.
Farlington has used Artsmark's clear and flexible framework to embed creativity across our whole curriculum, such as the introduction of Visual Literacy in Year 5 to stretch ability at all levels and facilitate cross-curricular thinking in an innovative way. It is a key tool in ensuring that our young people engage critically with the world around them.
We are now looking forward to building on this success through curriculum-wide collaboration, which will develop young people's leadership skills, strengthen our arts provision, and develop new partnerships in the local community and beyond to enhance the vitally important cultural education that is key to children's futures.
Please click here to find out more about Performing Arts at Farlington. For more about Visual Arts at Farlington, please click here.