WELCOME TO LITTLE FARLINGTON NURSERY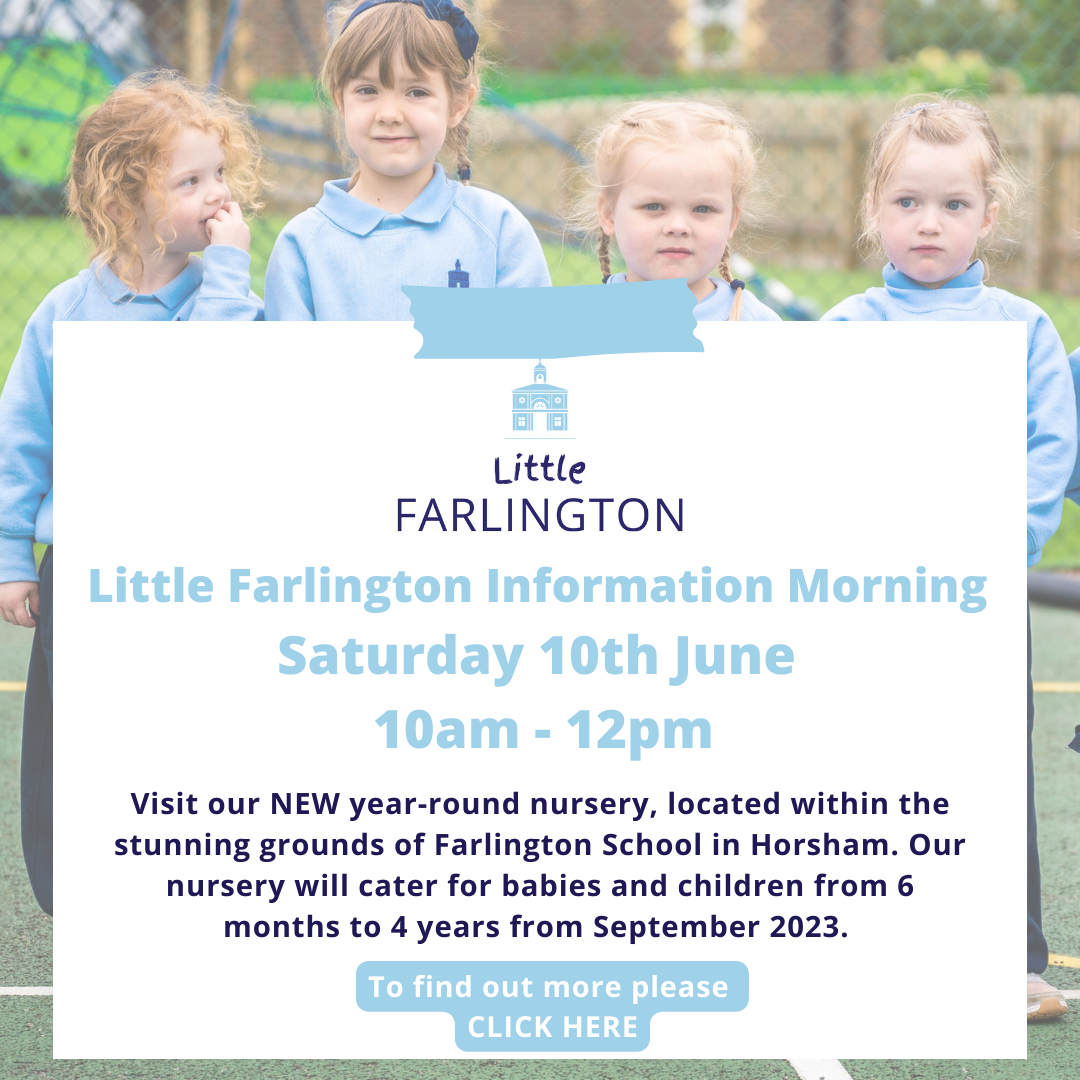 Information Morning at Little Farlington Nursery
Join us for an Information Morning at Little Farlington Nursery on Saturday, 10th June, from 10am - 12pm.
Visitors will be welcomed by Farlington School's Headmaster, Mr James Passam, and our Head of Lower School & Little Farlington Nursery, Mrs Ros Clayson.
During the morning you will have the opportunity to ask any questions you may have, and enjoy a short tour of the Nursery building and Lower School classrooms.
To reserve your space at this Information Morning, please complete this form.

---
Welcome to Little Farlington
Farlington School is pleased to announce the launch of its very own nursery provision, Little Farlington, which will open in September 2023. This exciting new nursery, located within the stunning grounds of Farlington School, will cater for children from 6 months to 4 years, and will be open 51 weeks per year.
Little Farlington is all about 'what is possible'. Our nursery and pre-reception is where our youngest learners explore, discover and adventure, and where innate curiosity and individuality is fostered, building the strongest foundations for children to ultimately become the pioneers of their own futures.

At Little Farlington, we recognise and value the importance of establishing an early educational experience which will provide the foundations for strong and successful future learning, as we understand that the formative years of a child's life have a significant impact on how they perceive themselves as learners. Our young learners are encouraged to take risks, lead, play collaboratively, develop their resilience, and prioritise wellbeing. All Farlington pupils embrace our philosophy of, 'They can, if they try', and by offering a high quality, early education we will provide the necessary building blocks for our children to make the most of their abilities and talents as they grow up, thereby becoming the best versions of themselves.

Having the opportunity for our children to join us from 6 months in Nursery and progressing all the way through their educational journey to Sixth Form has many benefits for not only the children, but also our parents and teachers. The teachers are given the opportunity to be able to really get to know our children and their families well, allowing for the smooth transitions at key points in their academic careers; getting to know their strengths and challenges and being able to work with them to make sure that their outcomes - academic, pastoral and co-curricular - are the best that they can be.

On our website, you will find a range of useful information about Little Farlington. I am certain that your child will thrive in our care and have an enjoyable and fulfilling experience with us as they discover 'what is possible' and we look forward to welcoming all our new children and parents to Little Farlington Nursery.

Mrs Ros Clayson
Head of Lower School & Little Farlington Nursery

---
Calling all nursery practitioners! We are delighted to announce that we will be holding two Little Farlington Nursery Recruitment Afternoons on Thursday, 8th June and Saturday, 10th June, from 1pm to 3pm. To find out more, please click here.
---