Jessica and Megan crowned Overall Winners of Bellevue digital competition
Back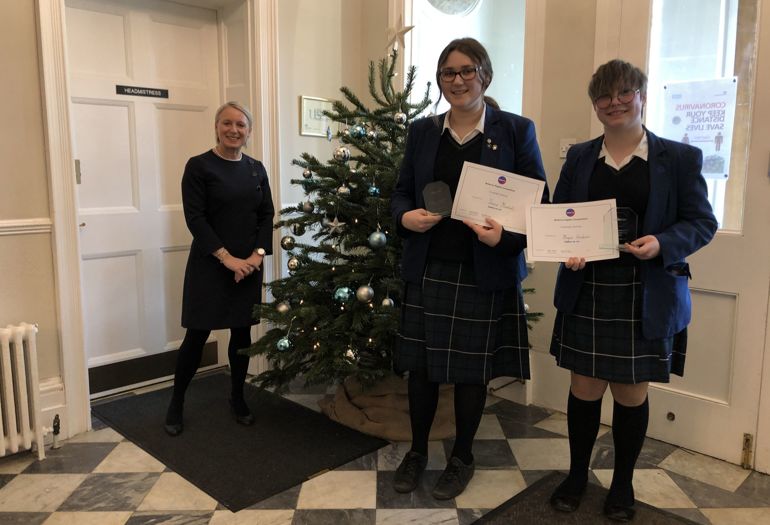 We are so proud of Year 10 students Jessica and Megan, who have been named Overall Winners of Bellevue's groupwide 'Together We Can' digital competition.
Back in September, pupils across the Bellevue group were invited to enter a competition. Using their digital skills, students were asked to explain what 'Together We Can', the group's ethos, means to them.
When Year 10 students Jessica and Megan heard about the competition, they were keen to enter, and the timing could not have been more perfect. At around the same time, the girls had been thinking about ways in which to raise money for the charity Brass for Africa, for whom Farlington had held a fundraising concert in 2019.
"Brass for Africa is a life-changing organisation that supports children and young people in Uganda, Liberia and Rwanda through brass-music education and life-skills training, and we were so happy to raise money for them last year," says Jessica. "We really wanted to do some more fundraising this year, but because of the coronavirus pandemic, we sadly weren't able to do another concert. So we had started thinking of other fundraising ideas."
After lots of brainstorming, the girls came up with a brilliant plan: they decided to contact Brass for Africa and ask if their musicians in Africa could play the brass instrumental section on a song that Jessica would write and sing. Megan would create some amazing digital art, and together the girls would produce and edit a video. And that's how their wonderful 'Together We Can' video was born - a real collaboration between continents!
Jessica and Megan submitted their entry to the Bellevue competition and set up a Virgin Money Giving page to collect donations. As more and more people watched their brilliant video, the donations started to come in thick and fast, and the girls' fundraising target of £500 was quickly met.
Meanwhile, the Bellevue judging panel were hard at work selecting competition winners. And during this morning's 'normal' Year 10 assembly, Jessica and Megan got a great surprise from an unexpected guest, Bellevue Education Director Samantha Selby, who announced that they had not only won the Key Stage 4 Category of the competition, but had also been crowned Overall Winners!
"We were so pleased [when we won]," says Jessica. "We didn't suspect anything, so it was a big surprise."
Thrilled winner Megan adds, "Being able to help people that do need it, to help them to live better and be happy… It means a lot."
All winners were awarded Amazon vouchers, with Jessica and Megan also earning themselves a programmable Lego chess set.
Jessica and Megan's award-winning video can be seen below.
---
EDIT: By the time Jessica and Megan's Virgin Money Giving page was closed in early 2021, the total amount raised was £1,501.25!
---