Endless praise from parents for Farlington's Virtual School
Back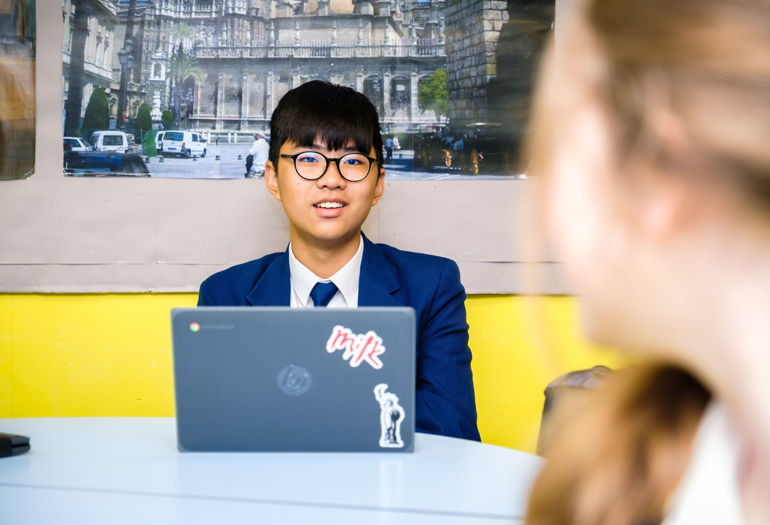 Farlington School offers its pupils an exemplary remote learning experience that is set up to ensure daily face-to-face contact and a structured day for its students, who have continued to follow their normal timetable throughout each lockdown.
In March last year, when the UK entered its first lockdown, schools across the nation found themselves in completely unknown territory, having to provide education at home for their pupils. But whilst many schools did little more than put in place cover - posting resources and tasks for students to complete and teachers to mark online - Farlington went further.
"We were tremendously excited to launch Farlington's Virtual School in March 2020," says David Walker-Smith, Head of Curriculum. "We began planning two weeks before the school was due to close, so we had time to prepare the technology, create policies and train teachers."
From age seven upwards, Farlington pupils already work with Chromebook laptops as standard, both in and out of school, so with schools closed, teachers are able to deliver whole class lessons face-to-face, following the students' normal timetables. A full school day of lessons, including all subjects from English, Maths and Science, to Modern Languages, PE and Drama - and even live cooking lessons - means that parents can get on with their own work, without worrying about their child's learning or progress.
Farlington's Virtual School was extremely well received by pupils and parents alike, and when the latest lockdown was announced in early January this year, the whole Farlington community transitioned seamlessly back into remote learning.
Parents have endlessly praised Farlington's Virtual School, with one saying, "The structure and timetable of lessons has been consistent and comprehensive. Apart from the loss of actual physical interaction between pupils, I don't think there has been any meaningful drop in the level or quality of education received via remote learning, which is quite a remarkable achievement by Farlington staff."
The effect of school closures on children's mental health has been widely discussed in the media, but the daily face-to-face interaction provided by Farlington's Virtual School, together with having a well-defined structure to each day, has made a huge difference to students' wellbeing, counteracting the sense of isolation that would otherwise inevitably occur during such a difficult time. In the Senior School, Tutors meet with their Tutor Groups every morning, as they would on any normal day, and teachers in the Prep School meet with their classes for Registration at the start of each day of Virtual School.
Another parent, whose daughter recently started at Farlington, said: "During the first lockdown [before joining Farlington], my daughter's mental health was massively impacted by not interacting with any of her classmates or friends for a very long time, probably made worse by being an only child. She completely switched off from all of her friends and withdrew into herself. This time, the Virtual School and having her classmates and teacher on screen has made a huge difference to her wellbeing. We are over the moon with the difference that Farlington has made to her life already!"