LAMDA success for Middle & Senior School students
Back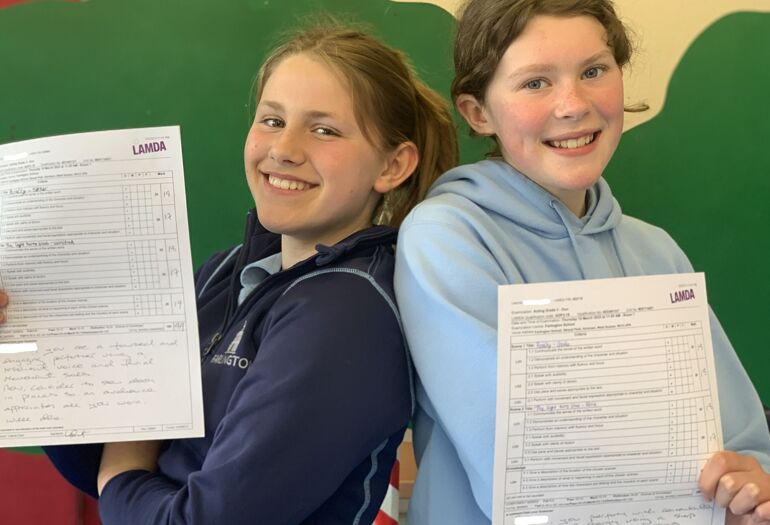 We are immensely proud of our Middle & Senior School Speech & Drama students, who achieved outstanding results in their recent LAMDA (London Academy of Music & Dramatic Art) examinations.
Last term, a total of 41 students took LAMDA exams, with Year 5 pupils taking 'Verse' and 'Prose' examinations, and students from Years 6 to 8, Year 10 and Year 13 taking LAMDA's 'Acting' exams. We are delighted to confirm that, for the first time, every single entrant passed with a Distinction! The results were well above the national average, and Mrs Booth and Mrs Cooper could not be more proud of these talented and hardworking students.
The examiners were extremely complimentary about all of our students, specifically referring to the confidence they displayed, the amount of preparation they had done, and the variety and originality of the pieces presented.
Every result deserves praise and celebration, but a special mention should go to our three Year 13 entrants for achieving a Distinction in their Grade 8 Gold Medals. These higher grades earn valuable UCAS points.
Huge congratulations to all entrants, and good luck to our Speech & Drama students in Years 2 to 4, Years 9 to 10, and Year 12, who will take their LAMDA examinations this term.
LAMDA is a highly respected examination board, and one of the UK's leading drama schools. Visit www.lamda.ac.uk to find out more.